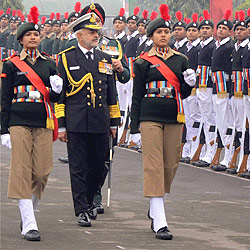 Navy principal Admiral DK Joshi on Wednesday resigned after two officers were worried killed and seven seafarers wounded when a fire erupted aboard a sub, INS Sindhuratna, around 40 nautical miles off Mumbai. "Taking moral duty for the accidents and cases which have actually taken place during the past few months, the Navy principal has resigned. The federal government has actually accepted the retirement of Admiral Joshi with prompt effect.
Navy vice-chief Vice Admiral RK Dhowan will be releasing the tasks of officiating Navy main, pending the consultation of a regular principal," claimed a protection ministry statement. In the mishap, the Naval force claimed both policemans, a helpmate Commander and a helpmate, both from the electrical branch, were "still to be made up", while the seven seafarers were airlifted by Sea Master helicopters to INS Ashwini hospital at Colaba.
"The seafarers dropped subconscious on inhaling the massive smoke engulfing the sub's third compartment. They are now secure," said a policeman. An upset protection ministry looked for a comprehensive report from the Navy since this is the 2nd significant accident in the country's ageing submarine fleet in the last six months, which has additional nicked India's undersea battle arm.
INS Sindhurakshak, a Russian Kilo-class sub like INS Sindhuratna, had sunk at the Mumbai naval dockyard, killing three officers and 15 sailors, after a series of internal surges in its fully-loaded tools area on August 14. INS Sindhuratna, by the way, was berthed beside INS Sindhurakshak at that time and received slight damages to its hull.
The crash on Wednesday happened when INS Sindhuratna had merely started its "sea workup phase" after undertaking a refit at the Mumbai dockyard from May to December in 2012. As component of the treatments, the Western Naval Command's commodore regulating subs SR Kapoor and his evaluation group were on board to test both the staff and the sub prior to removing it for operational implementation.